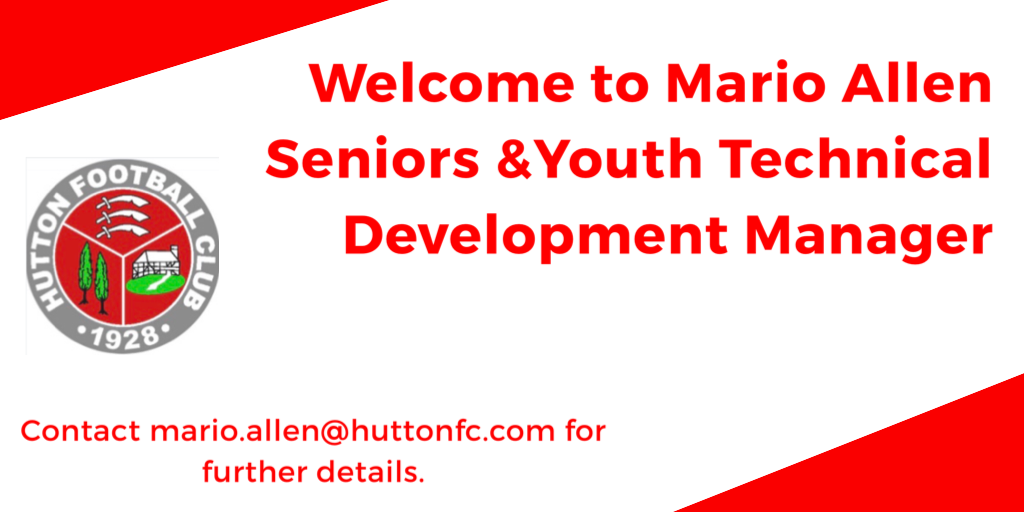 One of the key objectives at Hutton FC is to develop all players within the Club and support their pathway eventually into our Senior teams.
We therefore have a new position that will help with this process.
Mario Allen has come in and taken up the role of Seniors & Youth Technical Development Manager and his main aim is to identify talent and make sure they get the correct development and progression they need within the Club.
Mario has already began his role and has been watching a lot of the friendlies that have been taking place over the last few weeks. However he will need your support in identifying talented players within your teams.
If you have a player in your squad that is very talented and consistently playing well, please let Mario know. He will then come and watch the player and assess them. He will then discuss with the manager/coach/parents the options for progression which could be a promotion or a program designed to work on the players strengths and weaknesses.
We need to make sure our players have the development option they need, so that we can retain them within the club. Missing the first phase in a young players development could hold them back and impact us, as they may leave in order to get the progression/ development they need.
Mario has a lot of experience with talent identification and youth development and is keen to work with you, so that all our players have the best development and progression opportunities we can give them.
If you require any support from Mario or want to have him come and watch one of your sessions/matches, please email him and he will be happy to assist where he can.