SQUAD FOR 2017-18 SEASON [SCHOOL YEARS 6 & 5]
Adele Ghigliotti
Alice Vanovitch
Ava Smith
Charlotte Long
Henri McCarthy
Isabel Fabbri
Isabelle White
Jessica Winstone-Adaire
Louella Heaslip
Macey Barclay
Marcia Edwards
Natalie Barber
Olivia Walker
Rose Limmer
TEAM SPONSOR
The team is sponsored this season by TP Euro Rates. Thank you. Don't the girls look smart?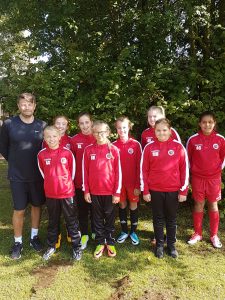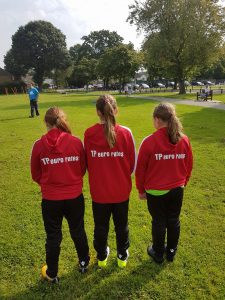 RAYLEIGH TOURNAMENT JUNE 25 2017 : U10 WINNERS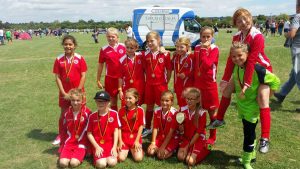 Welcome to our new girls, Isabel and Jess. Unbeaten, and winners.
FIRST BCFA MATCH MADRID DIVISION 17 Sept 2017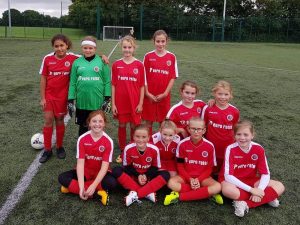 Lost 2-0 to Brentwood Town U10 Boys Green. A good, close match, and the girls played really well.
BCFA MATCH v LINKS ROYALS 24 Sept 2017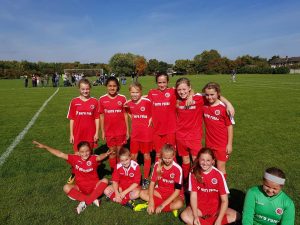 Lost 9-0 to a very, very good side (unbeaten last season). But the scoreline doesn't reflect another really good performance.
BCFA MATCH v ONGAR WHITE 1 Oct 2017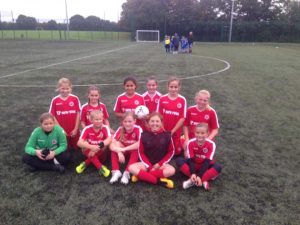 Another defeat, 3-0, but the best performance yet. If it wasn't for a stand out display by their goalkeeper the girls could easily have won this one.
BCFA MATCH v GRAYS ATHLETIC 15 Oct 2017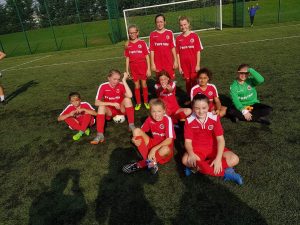 After a heavy defeat v Hutton White, the girls bounced back and put in their best performance of the season so far.  They lost 2-1, after leading in the first half. But, apart from last week's hiccup, the girls keep on improving.
BCFA MATCH v HERONGATE BLACK 5 Nov 2017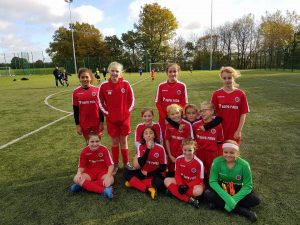 This was the Girls' first game in their new Division, and although they lost 1-0 it was a game they could easily have won. They just need to get their shooting confidence back, then watch them go.
BCFA MATCH v RTC U10 GIRLS 12 Nov 2017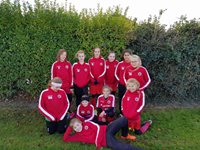 Their first win of the season, 2-1 against the Essex Elite Girls U10 team, and their best performance so far.
BCFA MATCH v WRITTLE MINORS U10 GREEN BOYS 3 DEC 2017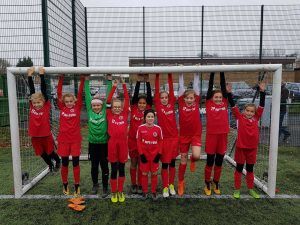 A close game, and unlucky to lose 3-1. The performance, especially in the first half, was fantastic.
BCFA MATCH v ONGAR U10 BLUE BOYS 7 JAN 2018 [Seville Division]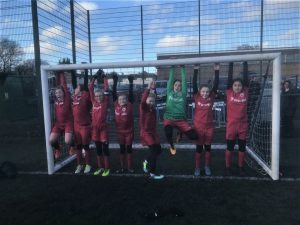 A great start to the new year, with a 7-0 win and a terrific all round performance. This was a first win v a boys' team and, in this new Division, hopefully the first of many. Still the best U11 Girls' team in Essex?!
BCFA MATCH v ESSEX RTC U10 GIRLS 21 JAN 2018 [Seville Division]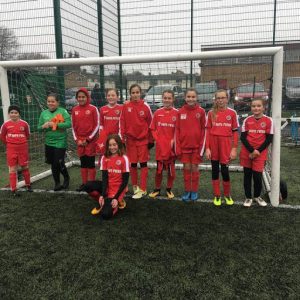 A fantastic performance by all the girls, and a 9-1 win. The team are flying now. Previously they were playing well but with no end product, but now the goals are starting to come. Well done.
BCFA MATCH v WEST HAM U10 GIRLS 4 FEB 2018 [Seville Division]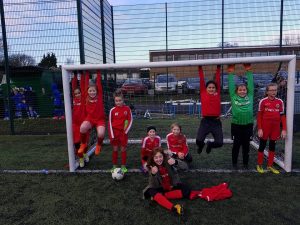 After beating a boys' team the previous week, and with confidence high, this was a match the girls (and Paul) were really looking forward too. And they didn't disappoint, winning 7-1, and it could have been many more.
After a difficult start to the season the girls are now back to their best. The benefit of playing boys' teams is now showing in how they play. They are a credit to Hutton FC. Well done.