NEW PLAYERS REQUIRED. SCHOOL YEARS 2, 3 & 4
This will be a new team, hopefully playing friendlies during the 2016-17 season, and entering a League next year,
Training is on the grass at Shenfield School Saturday mornings 10.15 to 11.45.
Everyone welcome, whether experienced or not. All we ask is that you wear appropriate footwear and shinpads. And if you just want to come and train, that's fine too.
We pride ourselves on offering excellent coaching, with the emphasis on having fun whilst learning.
If interested just come along on a Saturday morning and ask for Reece, Paul, Evie or Bex. Or call me on 07736351206, or Email thaxted666@hotmail.co.uk.
NEW MANAGER OPPORTUNITY
Although we have fully qualified coaches delivering varied and quality training each Saturday, ideally we'd like a parent or other 'connected' person to manage the U8 girls on match days. You will need to be CRBed, and the Club will pay for an Emergency Aid course. And possibly a FA Level 1 course. If interested please Email or call me.
Contact details : Girlssecretary@huttonfc.com or 07736351206.
SILENT FESTIVAL 23 APRIL 2017
Our first festival, and two teams entered. They both played brilliantly, and they really enjoyed the day.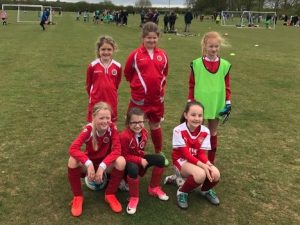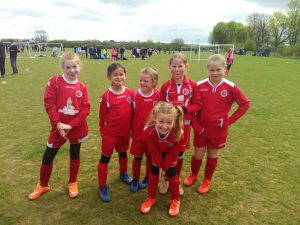 PROGRESS TO DATE 14 May 2017
7th May : After winning our first two friendlies last month, the girls took on an U10 team, Buckhurst Hill. They started brilliantly, and took a two goal lead, but ultimately the extra strength of the opposition proved too much. However Chris and Jamie were really pleased with the performance, and the positive attitude they showed throughout.
14th May : Another friendly, this time away to our local friends at Writtle. After a close first half which we shaded 1-0, we run riot in the second half netting a further eight goals. Chris thought all the girls contributed to a really strong all round performance.